FixYa, a site that provides consumer generated troubleshooting tips, today released a "Smartphone Reliability Report" that compares user complaints on smartphones from Apple (iPhone), Samsung (Galaxy), Nokia (Lumia), and Motorola (Droid).
Based on the reported problems, which come from a database of 30 million users, FixYa assigned a dependability score to each manufacturer. According to FixYa's rankings, Apple products were the most reliable, with the fewest reported problems.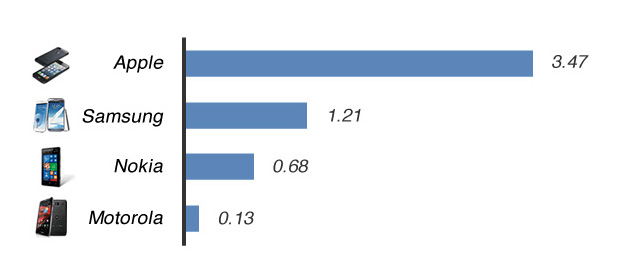 Apple received a dependability score of 3.47, a good deal higher than the 1.21 that Samsung received. Nokia and Motorola received scores of 0.68 and 0.13, respectively. To get these scores, the site used 722,558 troubleshooting questions from smartphone owners, normalized the data for relative marketshare, and analyzed the data to determine reliability.
Fixya users lauded the reliability of the iPhone, stating that it is almost always working as intended in regards to core features and never hits a constant roadblock with one feature.
Of the complaints that were made about Apple's iPhones, battery life was the number one problem, making up 35 percent of user issues. A lack of new features was the second biggest complaint, while no customizability and WiFi problems were also brought up.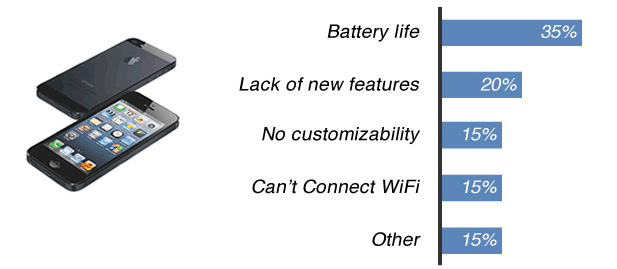 In the past, battery life has been a significant issue for iPhone owners. Most notably, iOS 5 had bugs that affected battery performance, which Apple later fixed. The iPhone 5 has also had battery issues, particularly when using the phone in areas with a weak signal.
As for Apple's competitors, FixYa users had complaints about Samsung's microphone and speaker issues, Motorola's touchscreen, and Nokia's load response times.